---
---
The National Animal Interest Alliance returns to Orlando on November 7 through 9 for its 2014 annual conference. The NAIA also held its 2013 in Orlando.
The mission of the NAIA is to promote the welfare of animals, to strengthen the human-animal bond, and safeguard the rights of responsible animal owners, enthusiasts and professionals through research, public information and sound public policy. NAIA's annual conference brings a panel of hands-on experts of animal welfare interest to discuss the important issues over the past year, including insuring our freedom to responsibly own and care for our animals.
The NAIA is an association of pet owners, businesses, agricultural, scientific, and recreational interests dedicated to promoting animal welfare, supporting responsible animal use, and strengthening the bond between humans and animals. NAIA consists of pet owners, dog and cat clubs, obedience clubs, and rescue groups, as well as breeders, trainers, veterinarians, research scientists, farmers, fishermen, hunters, and wildlife biologists.
For more information about the 2014 conference or to register, go to the NAIA website. Early discounted registration ends on August 31. The event will be held at the DoubleTree by Hilton Hotel Orlando at SeaWorld, 10100 International Drive, Orlando, Florida 32821.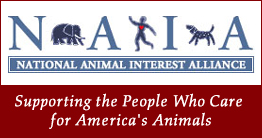 ---
---
Applies to 5 intact females of any species
---
Rescue groups now must be licensed
---
"Puppy-back" deals are included
---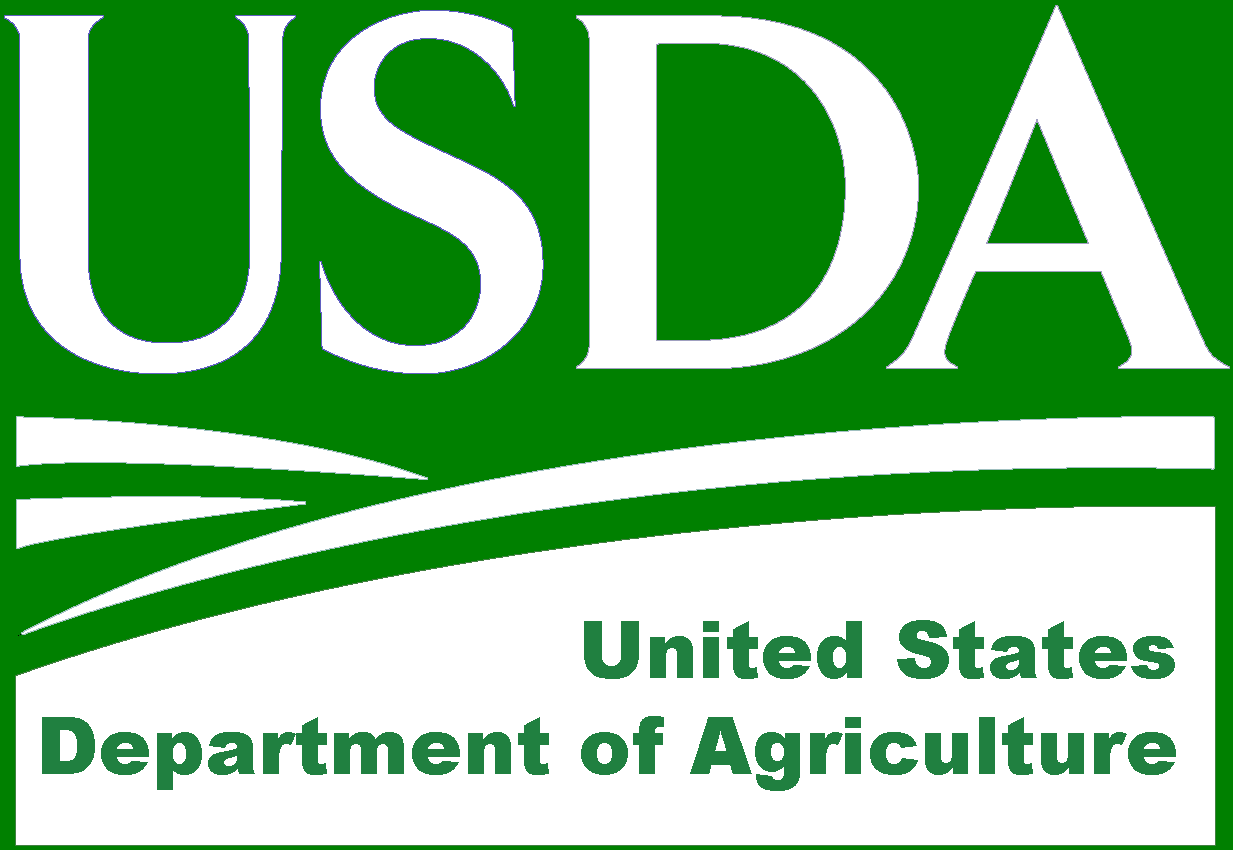 The Obama Administration has added pet breeders with over four breedable females (of any pet species -- not just dogs) to the USDA Animal and Plant Health Inspection Service's (APHIS) definition of a "dealer" under the federal Animal Welfare Act. This rule change takes effect on November 18, 2013. The new rule likely will subject thousands of hobby breeders to the same USDA licensing, inspections, animal identification and recordkeeping, handling, care, treatment, and transportation regulations which previously have applied only to commercial pet dealers.
The rule change will apply to any breeder with more than four intact females on her premises, who sells the offspring as pets, and whose buyers are not all physically present to observe the animals prior to purchase and/or to take custody of those animals after purchase (i.e., not face-to-face). While the rule change was intended to cover sight-unseen Internet transactions, it also will include sales negotiated by telephone, with the dogs shipped to the buyers, even if the breeder and buyer have had a long-term relationship with each other.
The definition of "breeding female" includes dogs, cats, and small exotic and wild mammals which are bred and whose offspring are sold as pets. Any combination of these female animals which total more than four would apply. The exemption refers to the aggregate number of intact females on the premises whose offspring are sold as pets. APHIS states that it will assume that any female that is capable of breeding may be bred, regardless of the bitch's age.
The rule change also is expected to adversely impact stud owners' puppy-back agreements. If the stud owner sells a puppy not bred on her own premises, she would not be exempt from the licensing requirement. Non-resident co-owners of breeding females would qualify for the four-or-less exemption, provided that no more than four breeding females are maintained on their premises. Private rescue organizations are not exempt if they operate in a manner that requires them to be licensed as dealers. This includes paying licensing fees and adhering to the facility standards of the regulations.
Details of the APHIS rule changes are here. The APHIS specifications for handling, care, treatment, and transportation are here. Click here for an AKC chart showing whether the APHIS rule affects you as a hobby breeder. See also this NAIA analysis.
---
FAKC welcomes its
newest member clubs
---
Not a member of FAKC yet?
---
FAKC welcomes its four newest member clubs: the Suncoast Basset Hound Club of Tampa, FL, the Pensacola Dog Fanciers' Association, Inc., the Tampa Bay German Shepherd Dog Club, and the Sunshine State Pomeranian Club!
If your Florida dog club is a member of the American Kennel Club (AKC) or an AKC licensed affiliate, your club may join the Florida Association of Kennel Clubs. Download a Membership Application now!
---
FAKC's Magnets For Sale!
---
Deliver Our Message, Loud & Clear!
---
FAKC is offering these colorful, to-the-point, car magnets at cost, $5.00 each, plus shipping. Buy one for yourself or in bulk for your club. We have hundreds of them. To order, contact FAKC president Leah James.
---

"Our goal is to make the public think of breeding dogs and cats like drunk driving and smoking."


-- Kim Sturla
---
Animal Rights, Animal Welfare: Which is it?
---
---
---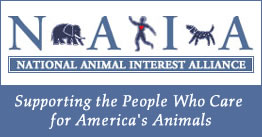 The extremists have kidnapped "animal rights" and given it a ludicrous new definition intended to give legal rights to animals and make humans their enemies. Compare some important differences between animal welfare and "animal rights":
-- Animal welfare celebrates the bond between animals and humans; animal rights seeks to sever that bond.
-- Animal welfare grows and improves as we learn more and more about animals, their behavior, and their management. Animal rights remains stagnant with its dogma of "no more animal use ever."
The National Animal Interest Alliance (NAIA) presents a thoughtful essay on the differences between animal welfare and "animal rights", as defined by the fanatics. Read NAIA's essay here.
NAIA also offers a sample letter for you to explain to your veterinarians the difference between Animal Welfare and Animal Rights. Click here to view the letter.
Unfortunately, many vets become indoctrinated in school by PETA and H$U$ (that's were some of their money goes) to believe that purebred breeding is a moral sin. Don't let your vets continue down that path.
---
Download These Posters To Fight Anti-Pet Legislation
---
Where does all of H$U$'s money go?

"It goes to lobbying, it goes to political contributions, it goes to pay huge staff salaries and benefits," said David Martosko, Director of Research, Center for Consumer Freedom.
---
All AKC puppies
should be registered
As part of the "front lines" of purebred dogs, AKC relies on its loyal breeders to communicate the benefits and importance of AKC registration to their puppy buyers. To ensure a strong future for you, your fellow breeders, and all purebred dogs, AKC needs all of its breeders to make a concerted effort to ensure that every puppy in each litter you have bred gets registered with the AKC. AKC has implemented a new initiative to help you accomplish this goal.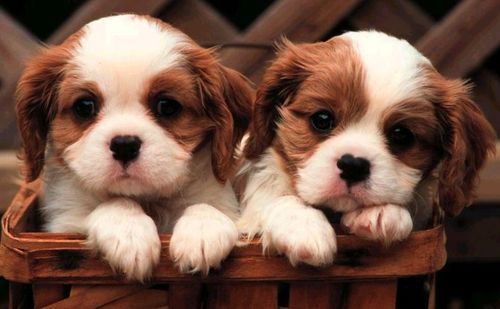 The AKC has begun sending all breeders who register a litter an email asking them to provide us with their new puppy buyers' contact information. The email includes information on our new Online Litter Record Service. This service allows breeders to supply AKC with new puppy buyer contact information in an easy-to-use online format. If the breeder does not want to use the new online service, a link to a printable version of the litter record is also available.
The new puppy buyers will then receive an e-mail or letter from AKC detailing the benefits and importance of AKC registration. The new puppy buyers will only be contacted by AKC. Their names will not be sold or used for any other promotions or marketing when given through this initiative. As you have experienced, puppy buyers tend to be more concerned about caring for their new puppy at the time of purchase, and often forget about one of the most important steps of responsible dog ownership – AKC registration. Our goal is to reinforce their decision of purchasing an AKC puppy and to educate them on the many benefits that they can receive with registration.
AKC is dedicated to promoting responsible dog ownership and educating new puppy buyers about registration benefits and the important programs that every registration supports. Registration dollars help AKC fund important educational programs, support the research of health issues through donations, and continue to subsidize AKC events. Our registration numbers also help us to maintain legislative influence and ensure that like-minded organizations continue to support the AKC through alternative revenue programs and sponsorships.
With your support, and by working together, AKC will be able to take the necessary steps to ensure its long and healthy future as the nation's preeminent purebred dog registry. For more information or to use the new Online Litter Record Service, please click here. Please note this service can be used for recent or past litters.
---
Rabies vaccination
exemption is available
Section 828.30(2) of Florida's statutes provides that a dog (or cat or ferret) may be exempted from the state's requirement that all dogs over 4 months of age must be vaccinated against rabies, if a licensed veterinarian certifies that the vaccination would endanger the dog's health because of its age, infirmity, disability, illness, or other medical considerations.
TheDogPlace.com offers a downloadable form for the veterinarian's certificate, which is available on-line here.
---
New USDA-APHIS regulations
will restrict puppy imports
---
AKC "applauds" restricting imports
---
USDA's Animal and Plant Health Inspection Service (APHIS) has issued new regulations, effective November 17, 2014, which restrict the importation of dogs under 6 months of age into the USA for resale, research, or veterinary treatment. Dogs 6 months or older must be "in good health, [and] have received all necessary vaccinations". Imports into Alaska are excluded.
The new regulations claim not to restrict importing dogs for personal use, such as a pet or as part of a breeding program. They also do not consider that dogs imported for training as working or service dogs to be "imported for the purposes of resale". The new regulations are downloadable here.
APHIS asserts that its regulations are designed to assure the health and welfare of dogs that are imported into the USA from overseas. In many cases, these animals are strays or are from high volume commercial breeders and may pose health risks. The regulations also are intended to reduce foreign puppy importations by local animal control agencies and humane societies. However, they will not prevent these groups from importing healthy, vaccinated dogs over 6 months of age.
The new regulations implement Section 18 of the federal Animal Welfare Act (AWA), which "prohibits the importation of dogs into the United States for resale purposes, unless the Secretary determines that the dogs are in good health, have received all necessary vaccinations, and are at least 6 months of age."
The American Kennel Club has stated it "applauds" this new regulation in a press release.
---
FAKC meets in Orlando,
elects Susan Smith president
The Florida Association of Kennel Clubs held its annual meeting on August 17, 2014, electing Susan Smith as president, and Leah James, Linda LaFrance, and Pat Boyd as vice presidents.
---
Anti-breeder bills die in
committee at Florida legislature
Two bills introduced in the Florida legislature this past session would have made dog breeding a felony. Fortunately, both bills died in committees. HB 1305 and SB 1574 would have subjected any breeder who breeds or sells more than 15 dogs per year to 5 years in prison if she was not registered with the Florida Department of Business and Professional Regulation (DBPR). To be registered, the breeder would have had to consent to annual inspections of her property and must comply with the federal animal welfare standards applicable to puppy mills and commercial breeders. Once registered, if the DBPR finds that the breeder violated any of the federal regulations, she could have been fined $5,000.00 per violation.
Considering that some breeds produce litters of double-digit pups, breeders of as few as two litters a year would have been subject to the law these bill proposed.
---
It's FAKC member club annual
registration & dues time again
FAKC member clubs annual registration and dues are due as of March 1 of each year. Member clubs may download the annual registration form here.
---
New Florida law requires shelters to keep in-take and disposition records of dogs
---
FAKC &

NAIA

supported law's passage
---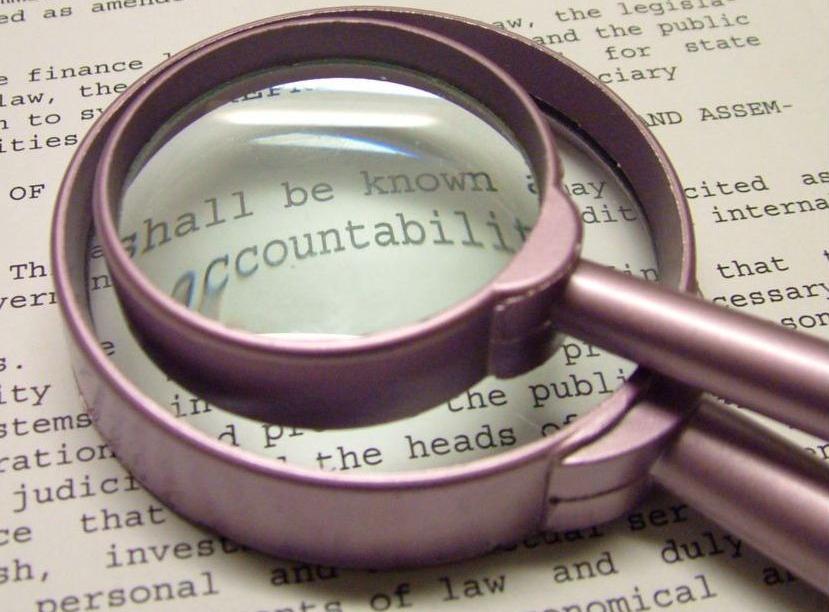 Since July 2013, every animal shelter, humane society, and animal control agency in Florida has been required to compile and maintain statistics of in-take and disposition records. Copies of all such records are to be open to public inspection. Also, if a shelter's policy is to euthanize dogs based upon size or breed, the shelter must provide a written statement of such policy.
The Florida Association of Kennel Clubs (FAKC) and the National Animal Interest Alliance (NAIA) and pet owners throughout the state fought long and hard to get this statute passed. Much credit goes to FAKC's Tallahassee lobbyists, Mixon & Associates and its principals, M. Juhan Mixon and Pat C. Mixon.
Everyone now is urged to contact your local animal shelters to be sure they are following this law. Call them and ask for copies of their in-take and disposition records. If they deny any knowledge of the law, send them a copy. You may download a copy of the statute here.
This law is a necessity to enable the State of Florida and its cities and counties to make informed decisions regarding the disposition of animals in these facilities, since presently there is little or no data being kept or available when requested. The statistics will help enable counties and municipalities to understand the current state of shelters and rescue animals as they craft ordinances and legislation in the future. It also will help us know where these animals come from -- imported from out of state, surrendered, taken, etc. We now cannot find out the true numbers and disposition of these animals in order to make meaningful decisions in this state as to the funding, resources and best practices in these facilities.
---
Our advocates at the
Florida legislature
Read here about our representatives before the Florida legislature, Mixon & Associates (M&A) and its principals, cavalier King Charles spaniel breeders M. Juhan Mixon, Pat C. Mixon, and their daughter, Corrine Mixon.
---
---
Tell Congress to reject federal PUPS bill
---
PUPS - HR 835 and S 707 miss the mark!
---
---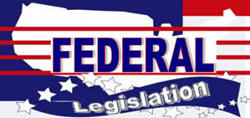 The federal Puppy Uniform Protection and Safety (PUPS) legislation drafted by H$U$ and introduced in 2011 as Senate Bill 707 and House Bill 835. The purpose of PUPS is to close a loophole in the federal Animal Welfare Act (AWA) which allows breeders who sell more than 50 dogs a year and sell over the Internet, to do so without regulation and oversight by the US Department of Agriculture (USDA). Read the text of the bill here.
PUPS would require anyone who owns or co-owns dogs that produce 50 or more puppies offered for sale in a 12-month period to be regulated under existing USDA dog "dealer" regulations. These regulations are designed for high-volume commercial kennels that produce puppies for wholesale, and require a USDA commercial license, maintenance of specified commercial kennel engineering standards and regular inspections.
PUPS' definition of a "high volume retail breeder" would be anyone with "an ownership interest in or custody of one or more breeding female dogs." It defines a "breeding female" as an intact female dog aged 4 months or older.
Dog breeding was first regulated under the AWA at a time when most large scale commercial breeders sold their dogs through middlemen to pet stores. The regulations are designed to protect the welfare of dogs, and to provide consumer protection to purchasers of pet store puppies who are unable to see and judge the conditions under which their puppy was produced. The growing number of large scale commercial breeders who sell their dogs over the Internet meet the historical criteria for regulation because, like the pet store purchasers, their customers are generally unable to see the environment in which their puppy was bred. Instead of buying their puppy at the seller's home or kennel, their puppy is generally shipped to them after an online sale is made.
USDA has the subject matter knowledge, the history and statutory authority to regulate this group of breeders, and can do so by amending the Act so that large scale breeders who use indirect means such as the Internet to sell and distribute their puppies will no longer be exempt.
The category of breeders regulated needs to be defined carefully so that it does not expand federal oversight to breeders who sell directly to the public from their homes, or breed and sell 50 dogs or fewer per year. Unfortunately, the PUPS bill does not stay within these parameters and it contains several other notable flaws. Hobbyists, casual breeders and some commercial breeders who sell directly to the public have never been considered appropriate targets for federal regulation. PUPS would cause many small scale hobbyists, sporting dog enthusiasts and working dog breeders to throw in the towel. It would also stretch the resources of USDA beyond its budgetary and operating capacity, reducing coverage in the areas with the greatest risk, and unnecessarily duplicating efforts by state and local agencies, as well as dog registries like the AKC that conduct significant inspection programs.
Write your Senators and Representatives and ask them to reject PUPS as currently drafted. Let them know you support its goals, but don't believe it will achieve its objectives and could cause more problems than it solves. Keep track of this H$U$-drafted anti-breeder bill on the AKC website.
---
From H$U$'s Wayne Pacelle's Playbook:

"We have no problem with the extinction of domestic animals. They are creations of human selective breeding."
---
AKC issues podcast on vaccination protocols
---
---
The American Kennel Club's Canine Health Foundation released a podcast in November 2010 on the topic of the different types of core and non-core vaccines available, what makes up the vaccines, and the best way to time the vaccination process.
Dr. Christy Petersen of Iowa State University presents the information. Listen to the podcast on-line here.
---
Join FAKC on Facebook!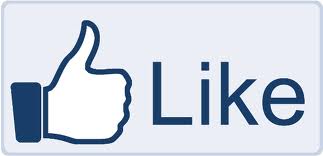 We are crawling into the 21st Century, which includes creating a Facebook page. There are many ways to communicate these days, and Facebook seems to be one of the easiest for many dog owners. So feel free to click on our Facebook icon in the upper left corner of the page. And, if you like what you see, let us know by clicking the LIKE button, too.
---
---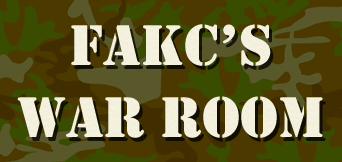 FAKC's War Room is where to go to battle anti-pet legislation. All of your weapons are there for you to send your messages to your legislators:
• The Actual Bills & Ordinances
• Talking Points for Your Letters
• How to Word Them Diplomatically
• Your Legislators' Names & Addresses & Emails
• Write Letters to Newspapers & Other Media
---
Tells it like it is!
Animal Rightists are behind forced neutering, dog limit laws
Dog Press column: Almost all mandatory spay/neuter and limit laws originated with H$U$, PETA, or SPCA and were supported by well meaning people without a clue. The Dog Press. By Teresa Crisman, Morningstar Miniature Schanuzers, Logan, NM.
---